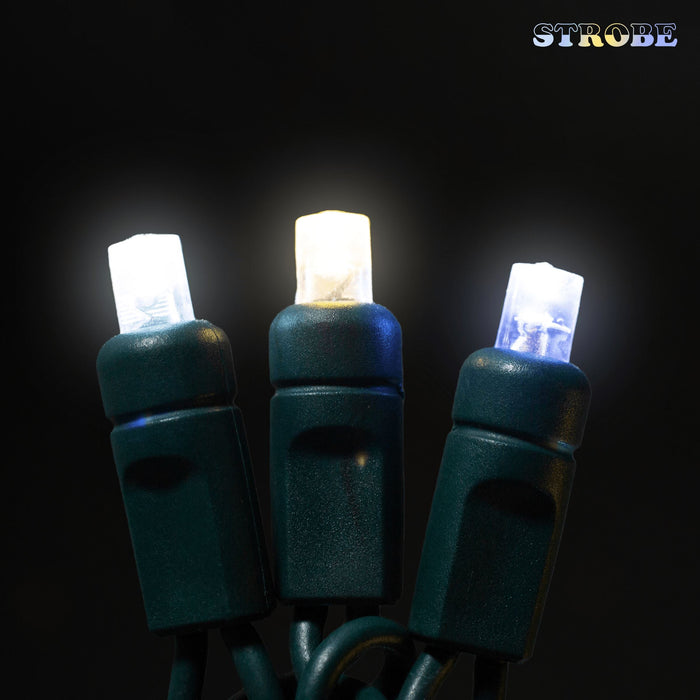 5mm Motion Light Set 70ct Balled-4" Spacing (Strobe / Twinkle) (GW)
Original price
$17.48
-
Original price
$17.48
Availability:
in stock, ready to be shipped
Availability:
in stock, ready to be shipped
Key Product Details
Bulb Shape / Type: 5MM
Length: 23'
Lighted Length:
Dimmable:
Bulb / Light Count: 70
Lead Length: 4"
Tail Length: 4"
Power Type: Standard UL Plug
Usage: Indoor/Outdoor
Introducing the 5mm Motion Light Set 70ct Balled-4" Spacing, the perfect addition to your holiday decor! With a vibrant green wire, these lights will add a pop of color to any space.
Featuring strobe and twinkle effects, these lights offer a fun and dynamic element to your display. The 5mm bulbs are small yet powerful, providing a bright and sparkling light. With 70 bulbs spaced 4 inches apart, you can cover a large area with ease.
The balled design adds a touch of whimsy to your holiday setup, and the 4-inch spacing allows you to create a dense and full look. These lights are also motion-activated, adding an interactive element that will delight both kids and adults alike.
With durable construction and easy installation, the 5mm Motion Light Set is perfect for indoor or outdoor use. Whether you're decorating for Christmas, Halloween, or any other occasion, these lights are sure to impress. Order now and take your holiday decor to the next level!
Product Specs

Bulb Life: 60,000 hrs

Product Package:

Bulb Spacing: 4"

Light ActionSteady

Bulb Material:

Bulb LED Style:

Bulb FInish:

Bulb Shape/Type/Size: 5MM

Light Type/Technology: LED

Usage: Indoor/Outdoor

Bulb Height:

Light Set Length: 23'

Tail Length: 4"

Lead Length: 4"

Bulb/Light Count: 70

Max Connected Sets: 45

Dimmable:

Flame Retardant:

UV Protection:

Removable Bulbs: No
Power Specs

Voltage: 120 volts

Power Type: Standard UL Plug

Wire Connection:

Wire Gauge: 22 Awg

Wire Type:

Watts per Bulb:

Watts per Set:

Amps per Set: .04