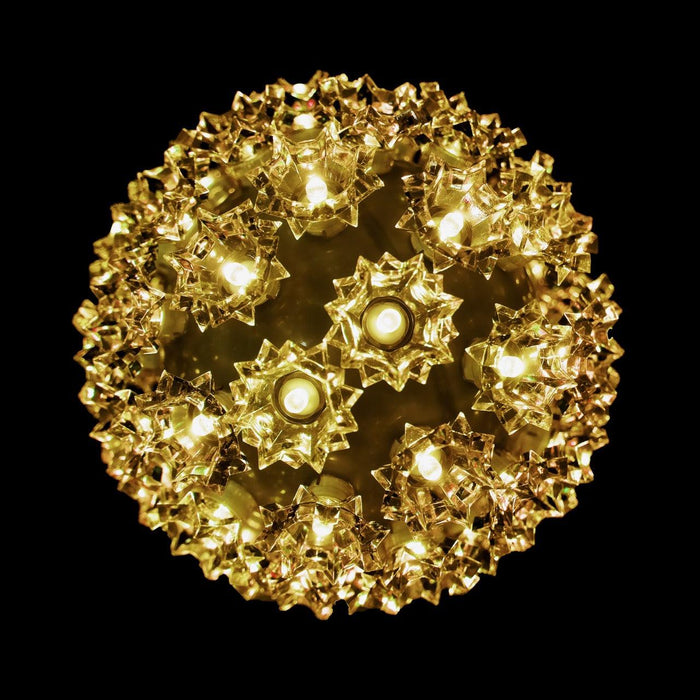 Retro Sphere - 6" (Twinkle)
Original price
$22.91
-
Original price
$22.91
Availability:
in stock, ready to be shipped
Key Product Details
• Includes 50 LED lights, encased with a star-shaped acrylic lens
• Works with any standard 110/120 volt outlet
• LED lights use up to 90% less energy
• Durable LED bulbs will last for seasons without fading, cracking, or chipping.
• Generous lead length to get the sphere exactly where you want it
• UL Rated or indoor and outdoor use
Introducing the Retro Sphere - 6" Twinkle feature specialty lighting, the perfect addition to any home decor or party atmosphere. This unique lighting feature is designed to evoke a sense of nostalgia with its vintage-inspired design, while also incorporating modern technology to create a mesmerizing and dazzling display of lights.
The Retro Sphere features a 6-inch diameter sphere with a black matte finish and a series of small, round bulbs that emit a warm and inviting glow. The bulbs are arranged in a random pattern to create a twinkling effect, adding a magical touch to any space. With its compact size, the Retro Sphere is perfect for small living spaces, bedrooms, or as a unique accent piece on a bookshelf or coffee table.
The Retro Sphere is also incredibly easy to use. Simply plug it in, and the twinkling lights will immediately come to life, transforming any room into a whimsical wonderland. Additionally, the Retro Sphere is energy-efficient, so you can enjoy its charming glow without worrying about high electricity bills.
This specialty lighting feature is perfect for anyone who loves retro style, whimsical decor, or simply wants to add a touch of magic to their living space. It also makes a wonderful gift for friends and family who appreciate unique and eye-catching home decor. With the Retro Sphere - 6" Twinkle feature specialty lighting, you can create a cozy and inviting atmosphere in any room, day or night.
Product Specs

Bulb Life:

Product Package:

Bulb Spacing:

Light ActionTwinkle

Bulb Material: Polycarbonate

Bulb LED Style: SMD

Bulb FInish: Smooth

Bulb Shape/Type/Size: 5MM

Light Type/Technology: LED

Usage: Indoor/Outdoor

Bulb Height:

Light Set Length:

Tail Length:

Lead Length:

Bulb/Light Count: 50

Max Connected Sets:

Dimmable:

Flame Retardant:

UV Protection:

Removable Bulbs:
Power Specs

Voltage:

Power Type: Standard UL Plug

Wire Connection:

Wire Gauge:

Wire Type:

Watts per Bulb:

Watts per Set:

Amps per Set: