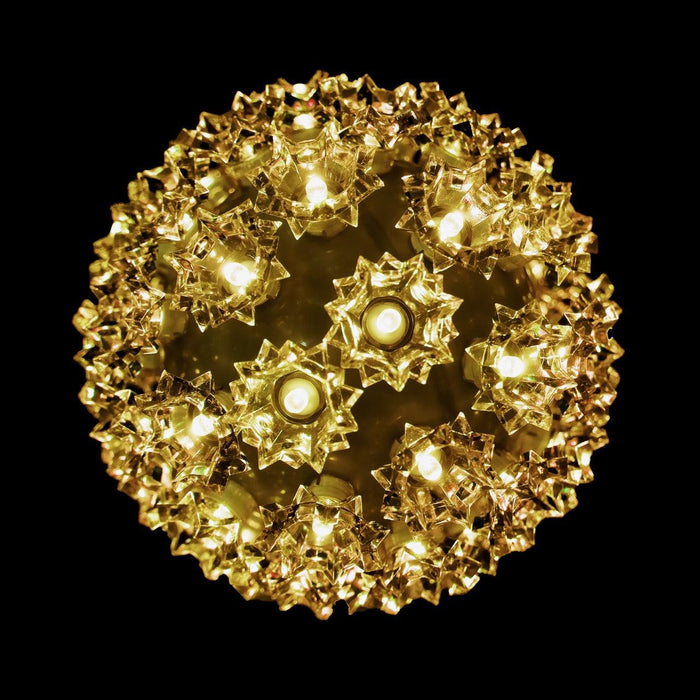 Retro Sphere - 7.5" (Twinkle)
Sold out
Original price
$73.00
-
Original price
$73.00
Availability:
More on the way!
Key Product Details
• Includes 50 LED lights, encased with a star-shaped acrylic lens
• Works with any standard 110/120 volt outlet
• LED lights use up to 90% less energy
• Durable LED bulbs will last for seasons without fading, cracking, or chipping.
• Generous lead length to get the sphere exactly where you want it
• UL Rated or indoor and outdoor use
Introducing the Retro Sphere - a beautifully crafted specialty lighting fixture that adds a touch of vintage charm to any space. Measuring 7.5 inches in diameter, this sphere-shaped lamp is designed to captivate your senses with its twinkling feature.
Crafted with premium quality materials, the Retro Sphere boasts a sturdy yet lightweight construction that ensures durability and longevity. The intricate design of the sphere is inspired by the timeless aesthetics of the mid-century era, giving it a nostalgic feel that complements any interior decor.
But what truly sets this lamp apart is its unique twinkle feature. As you turn it on, the Retro Sphere illuminates with a soft, warm light that shimmers and glows like a starry night sky. The effect is mesmerizing, and it creates a cozy and inviting ambiance that is perfect for relaxing, reading, or entertaining.
Whether you're looking to add a retro-inspired touch to your living room, bedroom, or office, the Retro Sphere is the perfect choice. It's easy to install and operate, and its compact size makes it perfect for small spaces. So why settle for ordinary lighting when you can bring the magic of the stars into your home with the Retro Sphere? Order yours today and experience the twinkle for yourself!
Product Specs

Bulb Life:

Product Package:

Bulb Spacing:

Light ActionTwinkle

Bulb Material: Polycarbonate

Bulb LED Style: SMD

Bulb FInish: Smooth

Bulb Shape/Type/Size: 5MM

Light Type/Technology: LED

Usage: Indoor/Outdoor

Bulb Height:

Light Set Length:

Tail Length:

Lead Length:

Bulb/Light Count: 50

Max Connected Sets:

Dimmable:

Flame Retardant:

UV Protection:

Removable Bulbs:
Power Specs

Voltage:

Power Type: Standard UL Plug

Wire Connection:

Wire Gauge:

Wire Type:

Watts per Bulb:

Watts per Set:

Amps per Set: