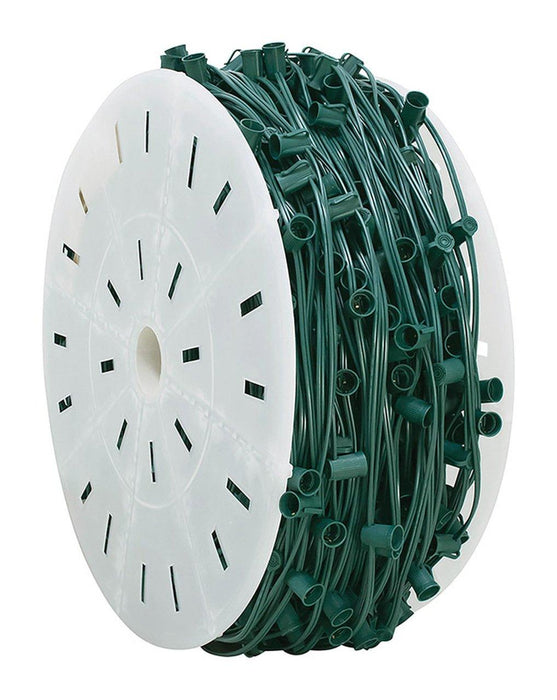 C7 Cord - Green (18 AWG/SPT1) 1,000ft reel
Original price
$329.75
-
Original price
$329.75
Availability:
in stock, ready to be shipped
Introducing the C7 Cord in vibrant green color! This 1,000ft reel of 18 AWG/SPT1 cord is a must-have for all your lighting needs. The C7 Cord is ideal for indoor and outdoor use, making it perfect for string lights, Christmas lights, and any other decorative lighting applications.
The 18 AWG/SPT1 wire is durable and strong, making it perfect for long-lasting installations. The green color is bright and vibrant, adding a pop of color to any space. The cord is easy to install and can be cut to any desired length, allowing for complete customization to fit your specific needs.
The C7 Cord is designed to be weather-resistant, making it perfect for outdoor use. It can withstand harsh weather conditions such as rain, snow, and extreme temperatures, ensuring that your lights stay on no matter what. The cord is also rated for up to 7 amps, giving you plenty of power for your lighting needs.
Overall, the C7 Cord in green is a reliable, high-quality product that is perfect for anyone who wants to add a touch of color and light to their space. Whether you're a homeowner, business owner, or event planner, this cord is sure to meet all your needs and exceed your expectations.
• 500 C7 sockets spaced 6.12.24.36" apart
• UL rated for indoor and outdoor use
• Use LED bulbs to save up to 90% more energy than incandescent lights
Maximum bulb load:
• 250 (C7) LED Retrofit bulbs or 250 feet of line, whichever comes first
• 100 (C7) 7-watt incandescent bulbs
• 70 (C7) 10-watt incandescent bulbs
Maximum amperage for 18/2-gauge wire:
• Up to 50 feet= 10 amps
• 51-100 feet= 7 amps
• 101-150 feet= 5 amps
• 151-200 feet= 3.5 amps*
• 201-250 feet= 2.5 amps*
*Only used for C7perimeter lighting applications