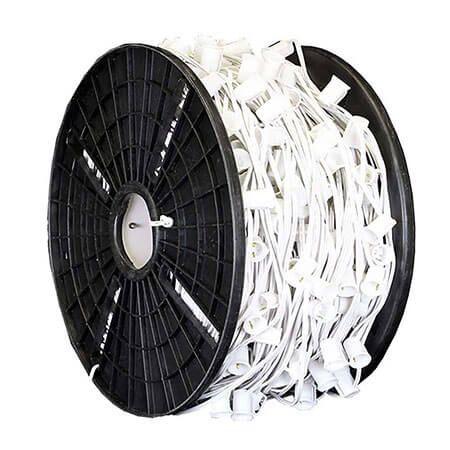 C9 Cord - White (18 AWG/SPT1) 1,000ft reel
Original price
$340.66
-
Original price
$340.66
Availability:
in stock, ready to be shipped
Introducing the C9 Cord - White (18 AWG/SPT1) 1,000ft reel, the perfect solution for all your indoor and outdoor decorative lighting needs. This high-quality cord is made from durable materials, ensuring that it will withstand harsh weather conditions and frequent use.
The cord is 18 AWG/SPT1, which means that it is thick enough to support the weight of heavy-duty bulbs and can handle a higher voltage. This feature makes it ideal for use with larger, more elaborate displays and decorations.
The 1,000ft reel of cord provides plenty of length for all your decorating needs, allowing you to easily create stunning displays across large areas. The white color of the cord is versatile and will blend in with most decorations, making it a great choice for both residential and commercial use.
Installation is easy and straightforward, thanks to the cord's flexibility and durability. The C9 Cord is also UL Listed, which means it has been tested and certified for safety and quality, giving you peace of mind when using it in your home or business.
Whether you're looking to add some festive lighting to your patio, decorate your trees for the holidays, or create a dazzling display for a special event, the C9 Cord - White (18 AWG/SPT1) 1,000ft reel is the perfect choice for all your lighting needs.
1000' of White Wire
Maximum bulb load:
250 (C9) LED Retrofit bulbs or 250 feet of line, whichever comes first
100 (C9) 7-watt incandescent bulbs
70 (C9) 10-watt incandescent bulbs

Maximum amperage for 18/2-gauge wire:

Up to 50 feet= 10 amps
51-100 feet= 7 amps
101-150 feet= 5 amps
151-200 feet= 3.5 amps*
201-250 feet= 2.5 amps*
*Only used for C7/C9 perimeter lighting applications