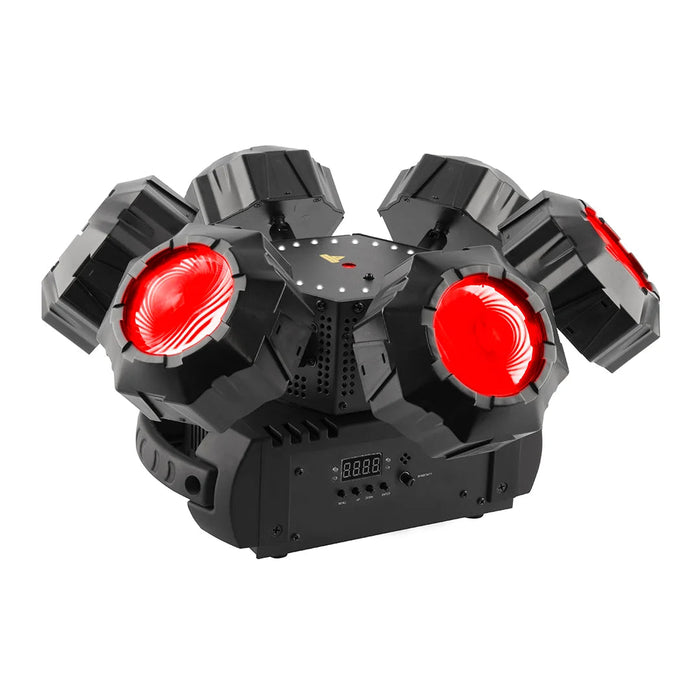 Chauvet Helicopter Q6
Original price
$379.99
-
Original price
$379.99
Availability:
Only 4 left!
Key Product Details
• A multi-effect light that includes adjustable RGBW beams, a round SMD strobe and a red/green pattern laser on a rotating base

• Continuous pan rotation that creates unique and amazing effects unlike any other light

• Narrow, razor-sharp beams of RGBW light for astonishing aerial effects

• Rotating red and green laser produces thousands of razor sharp beams that cover a large area

• Flexible control using automated and sound-activated programs, Master/Slave, DMX or an optional IRC-6

• Save time running cables and extension cords by power linking multiple units
The Chauvet Helicopter Q6 is an innovative lighting fixture designed to elevate your event to the next level. This powerful light offers six beams of intense, colorful light that move and rotate in a mesmerizing fashion, adding energy and excitement to any performance or party.
Featuring a compact design, the Chauvet Helicopter Q6 is perfect for mobile DJs, bands, and event planners who need a high-quality lighting solution that can be easily transported and set up. The fixture is equipped with six 15-watt RGBW LEDs that can produce a wide range of colors, from rich reds to deep blues to vibrant greens.
Thanks to its advanced motorized rotation system, the Chauvet Helicopter Q6 can create dynamic aerial effects, sweeping across the dance floor with mesmerizing speed and precision. The fixture is also designed with a built-in sound-activated program, which allows it to automatically respond to the beat of the music, creating a synchronized light show that perfectly complements the music.
The Chauvet Helicopter Q6 is easy to use, with simple controls that allow you to adjust the rotation speed, color, and intensity of the beams. It also includes a variety of built-in programs, including a strobe effect, pulse effect, and color chase, giving you endless creative possibilities.
Whether you're hosting a small party or a large event, the Chauvet Helicopter Q6 is the perfect lighting fixture to elevate the energy and excitement of any performance or celebration.