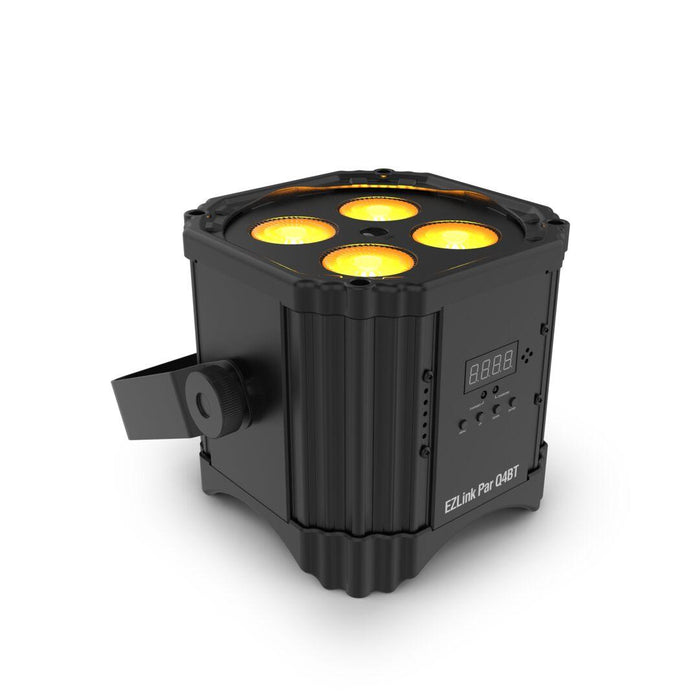 Chauvet EZ Link Par Q4 BT
Original price
$311.67
-
Original price
$311.67
Availability:
in stock, ready to be shipped
Key Product Details
- Bluetooth Quad Color (RGBA) LED
- Smartphone Control
- 100% TRUE wireless
- IRC-6 remote
- Fits best in the CHS-40 VIP Gear Bag
The Chauvet EZ Link Par Q4 BT is a high-quality LED lighting fixture designed for professional use in a variety of settings, such as concerts, stages, nightclubs, and events. With its wireless Bluetooth technology, this lighting fixture offers unparalleled convenience and versatility in controlling the light show.
Featuring four quad-color RGBW LEDs, the Chauvet EZ Link Par Q4 BT delivers a broad spectrum of vivid and bright colors that can be customized to suit your specific lighting needs. Whether you want to create dynamic and colorful light displays or subtle ambient lighting, this fixture offers a wide range of options to choose from.
Thanks to its compact and lightweight design, the Chauvet EZ Link Par Q4 BT is easy to transport and install, making it ideal for touring bands, DJs, and other mobile performers. With its adjustable bracket, this fixture can be easily mounted on a truss, stand, or other support structure, providing flexibility in placement and positioning.
One of the standout features of the Chauvet EZ Link Par Q4 BT is its built-in Bluetooth technology, which allows you to control the light show from your mobile device using the Chauvet DJ BTAir app. With this app, you can create custom lighting scenes, adjust color and brightness, and even synchronize multiple fixtures to create a stunning and synchronized light show.
Overall, the Chauvet EZ Link Par Q4 BT is a reliable, versatile, and high-performance lighting fixture that is perfect for professional use in a range of settings. With its advanced features and intuitive controls, it is sure to be a valuable addition to any lighting setup.