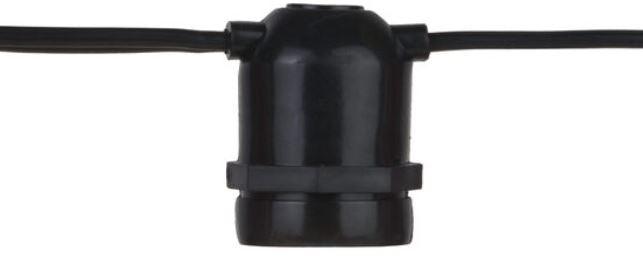 S14 SPT2 Black Cord - 24" spacing - 50' - No Drop Sockets
Original price
$48.21
-
Original price
$48.21
Availability:
in stock, ready to be shipped
Introducing the S14 SPT2 Black Cord - 24" spacing - 50', the perfect solution for all your outdoor lighting needs! Whether you're hosting a backyard party, celebrating a special occasion, or simply looking to add some festive flair to your patio, this product is the ultimate choice.
Featuring a sleek black cord that measures 50 feet in length, with a generous 24" spacing between each bulb, this lighting set is designed to create a warm and welcoming atmosphere that will make any occasion feel special. The S14 bulbs are the perfect size for outdoor use, providing a soft and soothing glow that's ideal for relaxing evenings spent outside.
One of the best features of this product is the no-drop sockets, which ensure that the bulbs stay firmly in place, even in windy or rainy conditions. This means you can enjoy your outdoor lighting without having to worry about bulbs falling out or breaking.
These lights are perfect for all kinds of occasions, from backyard barbecues to birthday parties, weddings, and even Christmas celebrations. They're easy to install and are designed to withstand the elements, so you can enjoy them year after year.
In summary, the S14 SPT2 Black Cord - 24" spacing - 50' is a versatile and reliable lighting solution that's perfect for any outdoor setting. With its durable construction, easy installation, and beautiful warm glow, it's sure to become a staple of your outdoor decor for years to come.